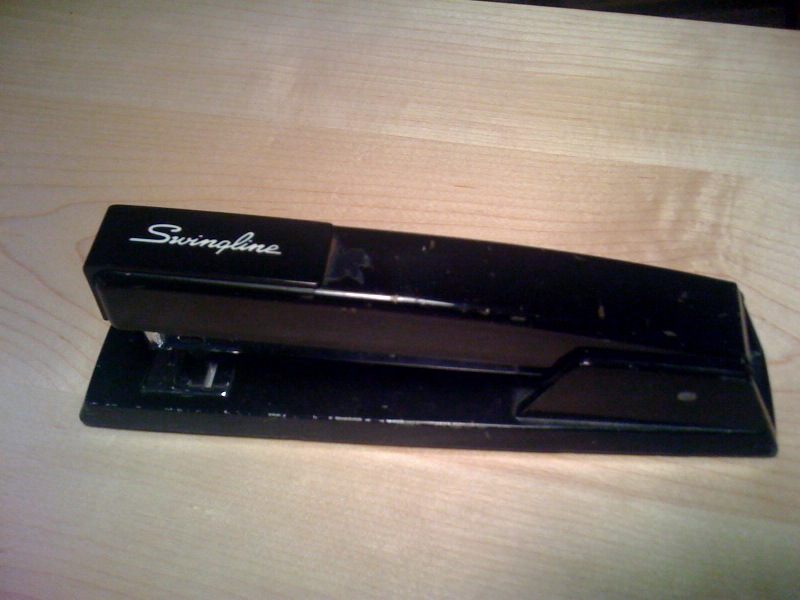 I just decorated my office. Because I wanted everything to be shiny and new, I bought a brand new stapler to match. My other stapler wasn't broken, just old. I took it with me when I left my very first PR job (I confess!), and, after many years, it's battered; and not in a good, steampunk kind of way.
I had an opportunity to use my new stapler when I had to put together a media mailing. (Small company owner, you know, wears lots of hats). It didn't work. The staples didn't squeeze tightly enough together to neatly secure two pages. Which got me thinking:  we're so enamored with shiny new tools we often replace ones we have, even though they work ok. It's a common trait in marketing and PR, embrace the newest, newest, newest of the new, because it's, well, new.
Don't get me wrong; I love new stuff – that goes for both office supplies (those gorgeous file folders) and social media tactics. Despite what Virginia Heffernan wrote in last week's NYTs magazine, "The Demise of Datebooks," I would never go back to my Filofax over Google calendar. Twitter has almost wiped out my need to check my RSS reader. And I am intrigued by using Foursquare beyond local retailing. But I think that before replacing something that works fine with something that looks better and shinier, I'll remember to stop to ask:  why?
Now, I'm swapping back to my sturdy but worn Swingline. I don't print out much paper anymore, so it's likely to be with me for a good long time. And I'm fine with that even if it doesn't match my decor.
What old tool do you want to keep?  What have you exchanged for a better model?  What's your story?