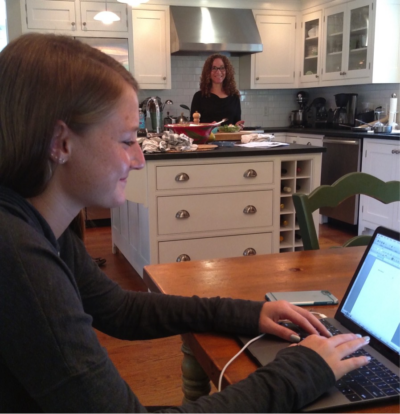 Hello! My name is Emily and I've been interning with Company B this month for my senior internship. It's been a pleasure working with Bonnie and the Company B team, rather than being in a boring office or doing manual labor, like some of my classmates chose to do, especially since most of my work has been centered on researching yummy bakeries in New York City.
Company B has a new client, By the Way Bakery. It's a gluten-free, dairy-free, and kosher bakery, located in Westchester and on the Upper West Side. We're working with them on PR and social media, and my intern project was to conduct competitive research to help us develop a strategic social media plan. Looking at the social media of By the Way's competition helps us understand what they should be doing, based on what works with other businesses, and how they can show through social media what sets them apart from the other bakeries. Bonnie asked me to look at a few popular bakeries, and I added some of my own popular favorites as well. My goal was to answer the very difficult question, "what drives desire?"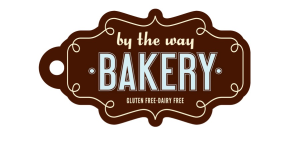 We examined each bakery's website and social media profiles, mainly Twitter and Instagram. The analysis was both qualitative and quantitative. We looked at followers, engagement and also at types of posts, style of photos, tempo and how well they involve and connect with their fans.
The first bakery that I looked into was Dominique Ansel Bakery, which was opened by French pastry chef Dominique Ansel just a few years ago. It's a trendy spot for both residents and visitors of NYC, and it was actually named "most Instagrammed restaurant in NYC" many times. Dominique Ansel's presence on Instagram contributes a lot to the fame of the bakery.
I also looked at Big Gay Ice Cream, an ice cream shop known for its hilarious owners and incomparable flavors and topping. Hilarious and incomparable are what differentiates the store in social media, too, where they have a big following for their posts that are just this side of outrageous.
Another bakery I looked at was Levain Bakery, which is co-owned by Constance McDonald and Pamela Weekes. The bakery has become notable for its signature fresh and gooey 6-ounce chocolate chip walnut cookie. Though Levain Bakery does not have a huge social media following, they still manage to stay on the radar for residents and visitors of the city. To put it simply – they're always in the media, promoting their signature item, which people line up for daily to get a taste.
I just had to look at Momofuku Milk Bar, a trendy spot for tourists that gained success through its original "cereal milk" soft swirl ice cream, and is backed by the famous Momofuku chef, David Chang, and its founder, Christina Tosi.
Other than the help of its chef and owner to boost popularity, Milk Bar keeps costumers intrigued with its originality, environmentally friendly vibe, and constant communication with its followers on Twitter and Instagram.
Magnolia Bakery was the last one that I looked it, and arguably the most popular. Magnolia Bakery is a chain of bakeries in NYC with 6 locations (so far,) and 11 international locations. It's been around for almost 20 years now, so even though other bakeries have gained fame with younger generations recently, Magnolia remains one of the most well known. Magnolia Bakery has been one of the most famous NYC bakeries for so long and they are still growing, making it a must for tourists. Their Instagram, followed by over 100k people, has beautiful, stylish and fun posts, representing the brand perfectly.
Through researching the high-end bakery landscape, I've learned how certain businesses gain their popularity through the media by engaging with their fans and writing compelling posts. All of these shops use Twitter, Instagram, and Facebook to generate excitement amongst their fans, and to grow their businesses. Having a high-profile owner helps drive desire. Dominique Ansel and Christine Tosi are both brands in their own right and people want to engage with people. Levain Bakery proves that it could be helpful to have a signature item with their walnut chocolate chip cookie, (we love the almond cookie at BTW!) The success of Magnolia Bakery taught us that media appearances and communication with followers are useful in trying to connect with all generations.
A robust presence in social media, especially if their target market is teenagers or young adults, drives desire. And what teen can resist a trendy bakery? The presence on social media for a business can make or break their popularity, so making engaging posts and communicating with their customers over Instagram, Twitter, and Facebook has a significant positive impact on their reputation. Each of these successful businesses also has a component that sets them apart from others, whether it's familiarity or originality. This helps to intrigue long-time fans and draw in new customers.
So, taking what I learned from my research, the next step for me was to write a few posts for By the Way and share my feedback with the bakery's team. I believe that Instagram is powerful for food businesses. My research showed me that all of the bakery's benefited from communicating with their followers on Instagram by posting at least once a day, with worthy pictures of their desserts, adding interesting and engaging captions, asking questions, reposting fan pictures, holding contests or giveaways, and asking fans to spread the word about their products. A lot of people overlook this, but it is crucial to connect with followers on Instagram, and all of these businesses do it well. We are looking to help BTW do the same because, trust me, their desserts are truly delicious.
https://companyb-ny.com/wp-content/uploads/2015/06/Untitled-e1586873883914.png
414
400
Bonnie Rothman
https://companyb-ny.com/wp-content/uploads/2019/08/company-b-logo-wspacer.png
Bonnie Rothman
2020-04-16 11:28:19
2020-04-16 11:28:21
Driving Desire: Connecting Through Cookies (and cupcakes, and scones, and brownies...)