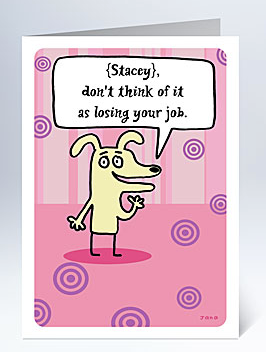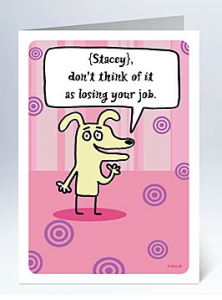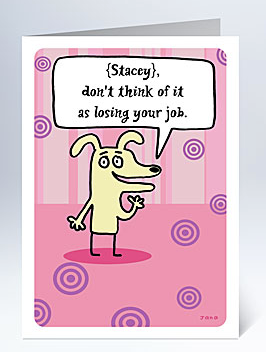 Hallmark is marketing unemployment cards – and the creative director of the company was on NPR to talk about it. Greeting cards aimed at the unemployed are perfect PR fodder and the mainstream news media has jumped to the bait. Time, The Washington Post, the LA Times, The Philadelphia Inquirer all covered. The story is getting attention because the notion is so counter-intuitive.
I can see how Hallmark decided to create a greeting card line to help soothe suffering souls and bolster the spirits of job-seekers. Hallmark believes that its products help make people's days brighter. That's what greeting cards typically do. A company "spokesman" has also been quoted as saying that he doesn't expect the new line to be a barn-burner. Hmmm.
By Hallmark promoting the effort, the company PR team is drumming up attention for the brand during a slow season for greeting cards. That may have been the strategy in the first place. But I think that spending $3 on a card and sending it to someone who likely gave up their daily $3 Starbucks habit (and a whole lot more) seems off the mark. The public relations campaign supporting these cards feels icky to me. Even though our instincts as PR people tell us that we have a good story to tell; we have to stop and ask 'why?' Maybe there are stories that are better left untold.
Perhaps these cards would have been more meaningful if they were in the value price range of around a dollar or, better yet, offered as a free e-card? Hallmark could have built good will with a campaign aimed at helping the social good. For example with each purchase, Hallmark donates a portion of the proceeds towards an organization that provides job training. That's a good story to tell.
What do you think about the Hallmark story? Good PR, or not-so-good?
https://companyb-ny.com/wp-content/uploads/2011/10/Screen-Shot-2011-10-11-at-1.28.06-PM.png
358
266
Bonnie Rothman
https://companyb-ny.com/wp-content/uploads/2019/08/company-b-logo-wspacer.png
Bonnie Rothman
2020-04-16 11:22:52
2020-04-16 11:22:55
Hallmark Unemployment Cards. Um, Ok.