At Company B, we understand how important social media is to a brand. Not just important, but crucial. And although we are the busiest Company B has ever been, we're incredibly excited to announce a new milestone in our brand's own social timeline. What better way to show you what we can do for your brand, than to do it for ourselves?
@CompanyB_NY, is our brand new Twitter handle. Follow us to learn about Company B's story – what we do for clients and how we do it. As a company dedicated to growing both your business and our ability to serve you, we'll be sharing tips, tricks, client successes and everything we're learning in the process.

Want something a little more visual? Head on over to instagram.com/CompanyB_NY, where you can see first hand what it takes to succeed at an always-on, part virtual/part in-person, branding, public relations and content marketing agency. Join us on outings, industry events, or adventures to foreign lands. Like New Jersey.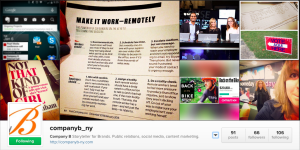 If you're looking for a stimulating read you can always come here, to the B-Mused blog. We'll be sharing our views industry trends, big and small, and diving into what it takes to keep up with the ever changing world of public relations.
Always on and always learning, if you've got advice we want to hear it. Have a Twitter tip? Tweet it at us. Something you want to see us posting on Instagram? Let us know. Great idea for a blog post or some best practices you want to pass along? Give us a shout out in the comments of any article you like! We not only welcome your input and feedback, we greatly appreciate it.
We can't wait share our passion for storytelling as it takes on new life in our own office, so thanks for being part of the ride! #ProductivityRedefined
https://companyb-ny.com/wp-content/uploads/2015/02/social_media_rules.jpg
750
900
Bonnie Rothman
https://companyb-ny.com/wp-content/uploads/2019/08/company-b-logo-wspacer.png
Bonnie Rothman
2020-04-16 11:26:33
2020-04-16 11:26:34
Getting social! Our newest social media campaign is all about us.