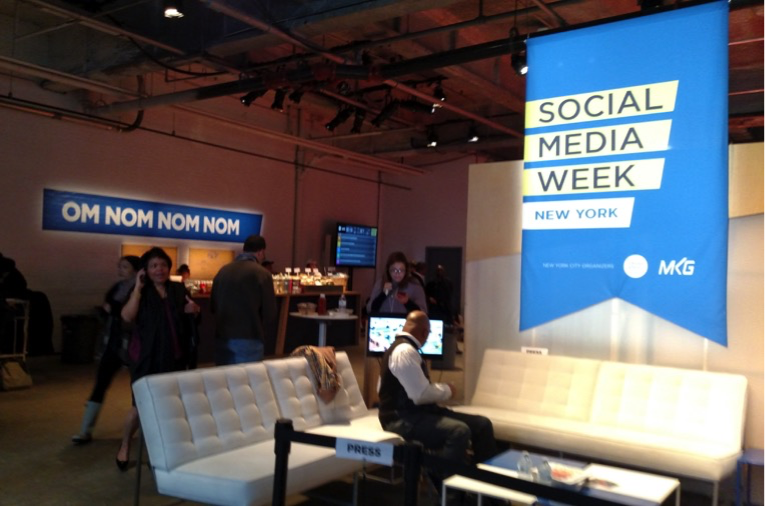 As awesome as Social Media Week was, the one complaint I, and everyone else had was simple: lines. For an on-campus SMW event, you pre-registered one hour before start time, but if 200+ people wanted to attend a panel meant to hold 75, getting in means lining up at 10:30 for a noon event.
But what if you went to a 9 a.m. event like I did? Well, you missed, registration. So the panel I REALLY wanted to attend, "Tapping Millennial FOMO: A Brand's Guide to Relevance Beyond 'Real-time Marketing,'" I couldn't, because I had tried to go to an earlier event to kill time. Yes, I missed an event based on a phenomenon known as Fear Of Missing Out. The irony was not lost on me.
The next event on my list was an off-campus, "How to Tell Stories that Drive Action." Now while I think we at Company B are ace storytellers, it's important to keep learning all time, so I was looking forward to this 1 p.m. workshop.
But it's 10:45 and I have time to kill, so I head to the Poncho Parlor, a cool workstation for SMW attendees set up by SMS-based weather service Poncho, wifi service Karma, and art/science studio betaworks. I'm their first visitor, officially the free wifi and coffee station beta tester, offering my expert advice to bring a garbage can over to the coffee area for future messy caffeine addicts like myself. Brilliant! The real fun begins when I'm checking my email and accidentally dump this inaugural cup of coffee off the table, into my purse, on my phone, phone charger, computer charger, external power source, my favorite notebook and my brand new planner.
An employee assisted me cleaning the floor and wall I've covered in coffee, but she can't do anything about my purse. Twenty minutes of pressing cocktail napkins to the fabric liner of my faux-leather bag can only do so much.
But we are nothing if not resilient! So I stuff my electronics into every pocket of my coat and jeans, tuck my laptop under my arm like a notebook in high school, and UGH put my paper products back in my now coffee-drenched bag. I begin the trek to nearby Chelsea Market to purchase a tote bag large enough to fit all my belongings as well as a rolled-up coffee-soaked purse.
Here, I offer advice to anyone dealing with a stressful situation – don't forget to eat. A coffee and croissant at 8 a.m. doesn't quite last until noon and frankly, blurry vision isn't worth it. If this ever happens to you, I suggest the following solution.
Stop dead in the middle of a very crowded market's entrance way and anger 8 fast-paced New Yorkers as you shuffle your way to the closest wall. Lean against the wall with eyes closed and take many many deep breaths until you've convinced yourself you are NOT in danger of collapsing and are going to be fine. Purchase the closest bottle of juice. This can hold you over for a while. Long enough to spend $25 on a bookstore tote that says Brooklyn is my borough because you are a snob. Then, you sort of need to find the closest sandwich place available to you.
Delicious sandwich in hand (thank you Amy's Bread) I took the slowest C train in existence to The Murphy Institute to see the independent event. Matt Bishop (iGiveMore) Justin Gomez (ALIGN) and Britt Liggett's (Show The Good) workshop promised the elements of a successful story, building audience trust, driving action and leaving with a crafted story.
Let's take a look at the advice Ligget gave.
Create an emotional hook
The worst day ever? I'm sure you've had one of those and wanted to compare it to mine so you could either feel better about yourself because your life is way easier than that, or superior because your worst day was SO much worse. And we can all relate to lines, missing events, a series of unfortunate circumstance, etc.
Setup with specifics

That's just my storytelling capabilities at work, folks. I hope I made you feel like you ALSO missed a super-cool event.
Provide the solution
My real solution is don't be a dope like I was and eat healthy meals regularly.
Impact step beyond the solution
Also, emergency situation solution of, put on your big girl pants, you can handle this. And so I did!
Final emotional hook
It all works out in the end.
Call To Action
Here it is! If you enjoyed this story, come back to our site and read our blog posts about the funny things that happen to me, the thought-provoking pieces Bonnie writes, the interesting things our interns come up with, and be part of the Company B experience.
So, how'd I do?
https://companyb-ny.com/wp-content/uploads/2015/03/Untitled2.png
507
765
Bonnie Rothman
https://companyb-ny.com/wp-content/uploads/2019/08/company-b-logo-wspacer.png
Bonnie Rothman
2020-04-16 11:26:25
2020-04-16 11:26:26
The Worst Day Ever at Social Media Week NYC: Or How to Tell A Great Story